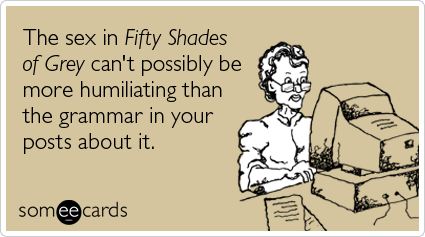 I totally came to the Fifty Shades of Grey party a little later than the thousands of people who put it on the New York Times bestseller list, I know. But GODDAMN IT even if everyone else has already pulled and is locked in the bathroom bumping drunken uglies, I'm glad I came.
Oh! I just accidentally punned! Do you know why 'I'm glad I came' is funny, Internet? BECAUSE SHADES OF GRAY IS EROTIC FICTION AND MAKES ME HOT AS HELL.
I first read about this book a few weeks ago, and promptly forgot about it because I pursue highbrow fiction that expands my mind over fiction that expands my vagina BULLSHITBULLSHITBULLSHIT. Also: GROSS.
Then, at the airport at stupid o'clock on Monday morning, I picked it up off the shelf, opened it to a random page, saw the use of the word 'besieged' twice in one tiny paragraph and thought, nope. Definitely not for me. And then, please buy a thesaurus for your next book E.L. James.
BUT THEN. Waiting for some friends yesterday I wandered around the bookstore in the piazza (I LEAVE IN TWO WEEKS. I'M SAYING PRETENTIOUS ITALIAN WORDS AS MUCH AS I CAN UNTIL THEN, OKAY?) and accidentally found myself picking it up off the shelf once more. And the page I opened to this time had the words fisting, butt plugs and hot wax in the same tiny paragraph.
I started the first few pages as I waited for my (really very tardy) friends. They arrived, asked me what I was reading, and I was all ummmmm, well, you see, it's… porn. And they were like, LAURA READING SEXY TIME BOOKS. WHAT A SURPRISE, to which I was a bit like, SCREW YOU! BUT YES! IT'S MORE IN CHARACTER THAN I CARE TO ADMIT! And then they were all Let's have a look then, and within minutes I found myself saying JESUS GUYS! CAN WE NOT USE THE WORDS 'BINDING WITH A SPREADBAR' AND 'NIPPLE CLAMPS' BEFORE I'VE HAD MY COFFEE?
That interaction pretty much sums up the tone of the book. It's badly written and as sexy as a young college graduate being taken to the Red Room of Danger with a pack of butter and a riding crop for the first time. Incidentally, that's exactly what happens.
Well, possibly I invented the butter part. But then also I'm only 100 pages in, so who knows what could happen?
Aaaaaanywoohoo, over breakfast I found myself thinking about the book, and wondering about the book, and really wanting to read the book, to the point where after forty-five minutes I said something like, 'Okay! Great breakfast guys! Do it again soon! Work to do! So busy! Crazy busy! BANANA IN A HAT! CIAO!'
I went and sat in the café and read it over another three breakfasts until it was time to go to work, and about that, to my friends, I say, sorry I'm not sorry.
I read it in the ten minutes I had before my shift after I arrived at work.
I told my boss I needed another hour off as I was supposed to start, and I read it with a large piece of Red Velvet cake in the staff room until she finally came in and said DO SOME WORK WILLIAMS. AND GET YOUR HAND OUT OF YOUR KNICKERS.
I found myself writing my student reports whilst listening loudly to Rihanna. If you have never heard this song then you won't understand just how much this fact is of an indication as to the state of my mental whereabouts, so I implore you: listen to Rihanna. I reserve her for my most dirty dancing of days, and my colleague who later walked into the room heard what I was playing and said, 'You look a little red-faced and flustered. Are you okay?'
My most immediate thought to that was ewwww. I must look really gross when I'm trying to do sexy time for realises.
Then- I really need some sexy time for realises to see.
I announced that I didn't think I could complete Fifty Shades of Gray without getting laid. I wanted to go home, fix my lady garden, and head out to the bar to say THAT ONE. I CHOSE THAT ONE. And I'm not even kidding. I have no shame in doing that. (Also: I know that you know that already.)
Another colleague said GO HOME TO YOUR KING-DING-A-LING INSTEAD which I think meant vibrator, but to be honest I don't care what it meant because EVERYONE ON A DIET ALLOWS THEMSLEVES AT LEAST A TASTE OF CHOCOLATE OCCASIONALLY. My diet is just a sex diet, that's all. Thus, my square of chocolate is a penis.
See you at the bar then, Rome. And bring your bondage tape.